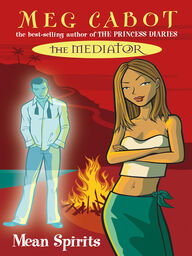 Most people do not end up as ghosts. God forbid. If that were true, my social life would be SO over.
School is definitely out! And Suze is set to spend the summer down at the beach with her best friend, Gina.
Then she runs into the vengeful ghosts of four high-school students. They're out to wreck some seriously dangerous havoc - and only Suze has the mediating skills to stop them. But she'd better act fast, before the mean spirits turn on her...
Susannah Simon is having a great time hanging out with Gina, her best friend from New York, who was able to come out and visit her. They have been hanging out at the beach every chance available and catching up on old times. Until Suze sees four ghosts trying to steal beer from a convenience store.
Suze quickly discovers that the four, dubbed the "RLS Angels" by all who knew them, were killed in a freak car accident on the treacherous cliff roads in Carmel-by-the-Sea. The four, two boys and two girls, were some of the most beautiful and popular people at a very exclusive rich kids school.
Unfortunately, they seem to be determined to punish Michael Meducci, the geeky kid who hit their car and forced them off the cliffside. Suze doesn't really want to be seen around Michael (talk about loss of popularity!), but she knows that that is the only way she'll be close enough to keep him alive. After saving Michael's life twice, Michael develops a huge crush on Suze and tries to hang out with her all the time. Suze is convinced that it is all just a big mistake and that she can get the ghosts to leave them alone through some of her kick-butt ghost busting techniques, but Father Dominic, her fellow mediator, talks her into trying to talk them out of it.
After talking to the RLS Ghosts, Suze doesn't really like them any more than she did before, but she starts to suspect that Michael may not just be having a run of bad luck. I mean, his sister is in a coma from passing out at a pool party and he accidentally killed 4 people in a couple weeks, how can that be a coincidence? As Suze tries to piece everything together and find out who she should be protecting, she has to make some tough decisions about who to punish and how...