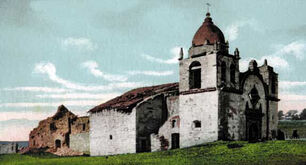 The Junipero Serra Mission Academy is the school where Susannah,and her step brothers, attend. It is based on Junipero Serra School, which Meg attended. However, the real school is an elementary school rather than a high school.
Schedule and Classes
Edit
Mission Academy starts promptly at 8:00 every morning, and students have assembly in the courtyard. After fifteen minutes, they go to homeroom, which is also their first class. There are 70 students in Suze's class.
Most of the buildings at Mission Academy encircle a large courtyard with a fountain. There are frequently tourists in the courtyard along with students. The rectory is located behind the circle of buildings and has it's own parking lot.